Defense contractor "white hat" tells FBI that Judicial Watch paid him to hunt for Clinton hack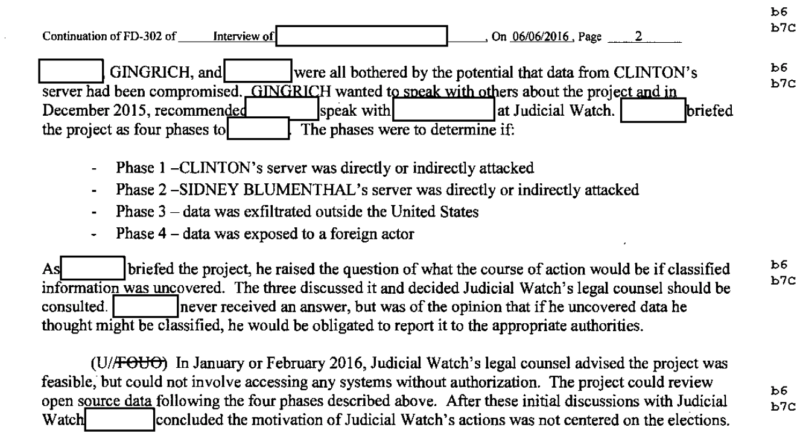 More records from the Federal Bureau of Investigation's review of Hillary Clinton's e-mail practices have been released through the FBI's Freedom of Information Act site, including interviews with a number of individuals related to the security of the server. One of them was an employee of a defense contractor who claimed he was funded by Judicial Watch to investigate whether Clinton was hacked.
In the interview, the individual, whose name was redacted, claimed that he used the services of Dark Horse Data, a company owned by former Deputy Undersecretary of Defense for Intelligence Reginald Hyde, to search for e-mails associated with Clinton's personal account. The company focuses on "specialized data acquisition for both US and International customers" and has provided database intelligence analysis to the US government.
The credibility of that information, however, is certainly in doubt. Hyde denied that his company was involved in any such task, telling Ars Technica in a phone interview that he "was quite astounded to learn" of the assertion in the FBI documents and saying that it was like "being asked how your day on Mars was. My company was categorically not involved in this."
Read 4 remaining paragraphs | Comments
This article:  
Defense contractor "white hat" tells FBI that Judicial Watch paid him to hunt for Clinton hack