Hey Reader's Digest: Your site has been attacking visitors for days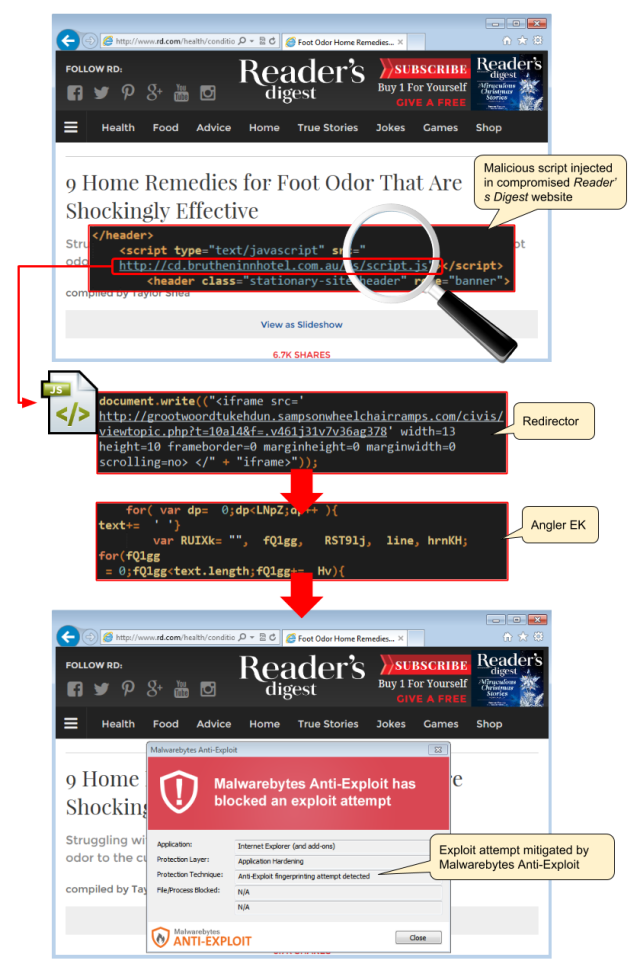 An active hacking campaign is forcing Reader's Digest and many other websites to host malicious code that can surreptitiously infect visitors with malware and linger for days or weeks before being cleaned up.
Reader's Digest has been infected since last week with code originating with Angler, an off-the-shelf hack-by-numbers exploit kit that saves professional criminals the hassle of developing their own attack scripts, researchers from antivirus provider Malwarebytes told Ars. People who visit the site with outdated versions of Adobe Flash, Internet Explorer, and other browsing software are silently infected with malware that gains control over their computers. Malwarebytes researchers said they sent Reader's Digest operators e-mails and social media alerts last week warning the site was infected but never got a response. The researchers estimate that thousands of other sites have been similarly attacked in recent weeks and that the number continues to grow.
"This campaign is still ongoing and we see dozens of new websites every day being leveraged to distribute malware via the Angler exploit kit," Malwarebytes Senior Security Researcher Jérôme Segura wrote in an e-mail. "This attack may have been going on for some time but we noticed a dramatic increase in infections via WordPress sites in the past couple of weeks."
Read 3 remaining paragraphs | Comments
Read more: 
Hey Reader's Digest: Your site has been attacking visitors for days